Tips for Multi-day Kayaking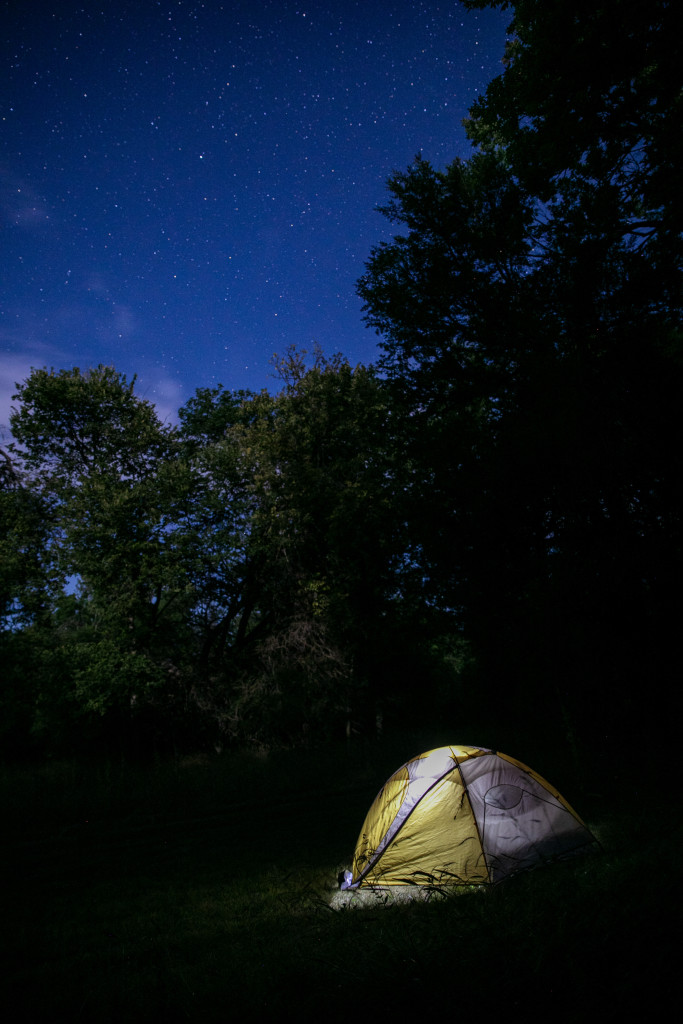 By Jenny Nguyen-Wheatley
Kayak camping is exactly what it sounds like — a unique adventure that combines the best of two worlds. In high school, I was fortunate to spend a week in Alaska with the Girl Scouts, and like a dream come true, we paddled our way around the Kenai Peninsula and camped each night on different beaches. From the tranquility of a kayak, I witnessed marine wildlife from a perspective that would've been different had I been sitting in a loud motorboat. And for miles each day, I admired and contemplated the beautiful shapes and contours of land from the water looking inward. It was an experience I'll never forget, and sadly, I waited a long time to go kayak camping again.
More so than camping or even backcountry backpacking, the planning that must go into kayak camping can get complicated, especially without the help of an outfitter or guiding service. But it's not impossible if you know a group of trustworthy people willing to put in the effort. Fortunately, I fell in with the right crowd when I worked at the Nebraska Game and Parks Commission office in Norfolk, and while I've joined plenty of day floats with this group of friends over the years, plans finally fell into place in summer 2020 for a long weekend of kayak camping on the Niobrara River.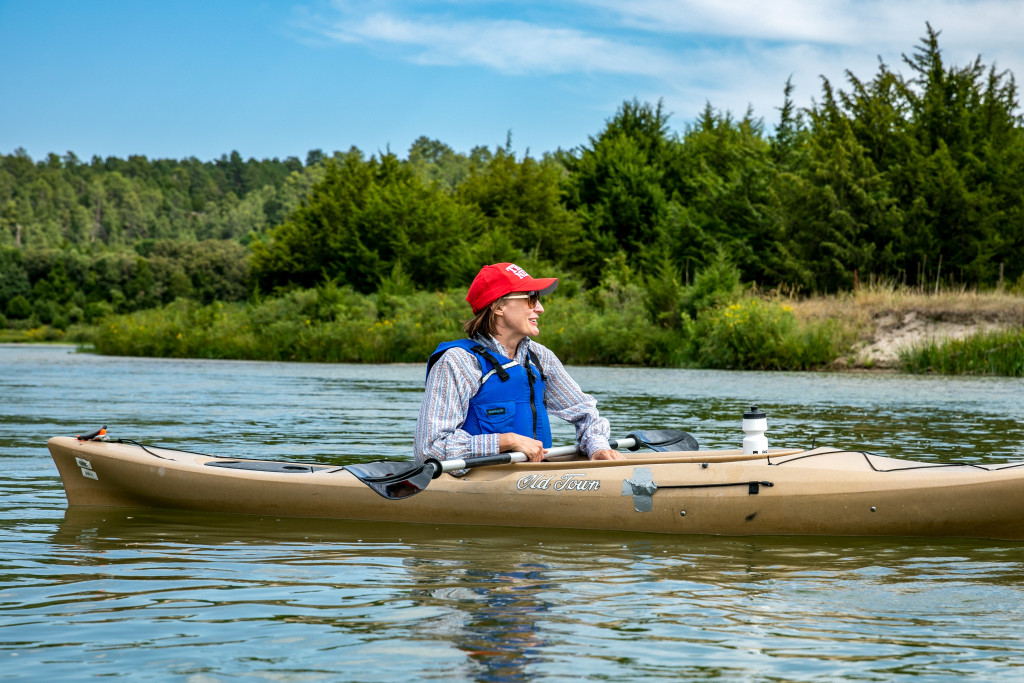 Experience Level
Kayak camping can suit a variety of experience levels. The more important consideration is choosing a route that fits your ability, because overshooting your skills can turn disastrous. While paddling in a remote area might seem enticing, keep in mind that most of Nebraska's 79,000-plus miles of rivers and streams are several hours away from medical assistance and outside of cell phone service.
"Unlike backcountry backpacking, you can't turn around and go back up a river in a kayak if things go wrong," said Kelly Corman of Bassett, an experienced kayaker. "Kayaking ranks up there with rock and ice climbing in terms of fatalities annually — it's no joke."
Corman advises first-timers to stick to more well-traveled routes, such as the national wild and scenic sections of the Niobrara and Missouri rivers and other mapped-out Nebraska water trails.
The National Park Service offers information on floating the Niobrara River, bit.ly/3axcuNs, and the Missouri National Recreational River Water Trail,
bit.ly/3Q42mMn. Find information on floating other water trails at the Nebraska Game and Parks Water Trails website:
OutdoorNebraska.gov/watertrails.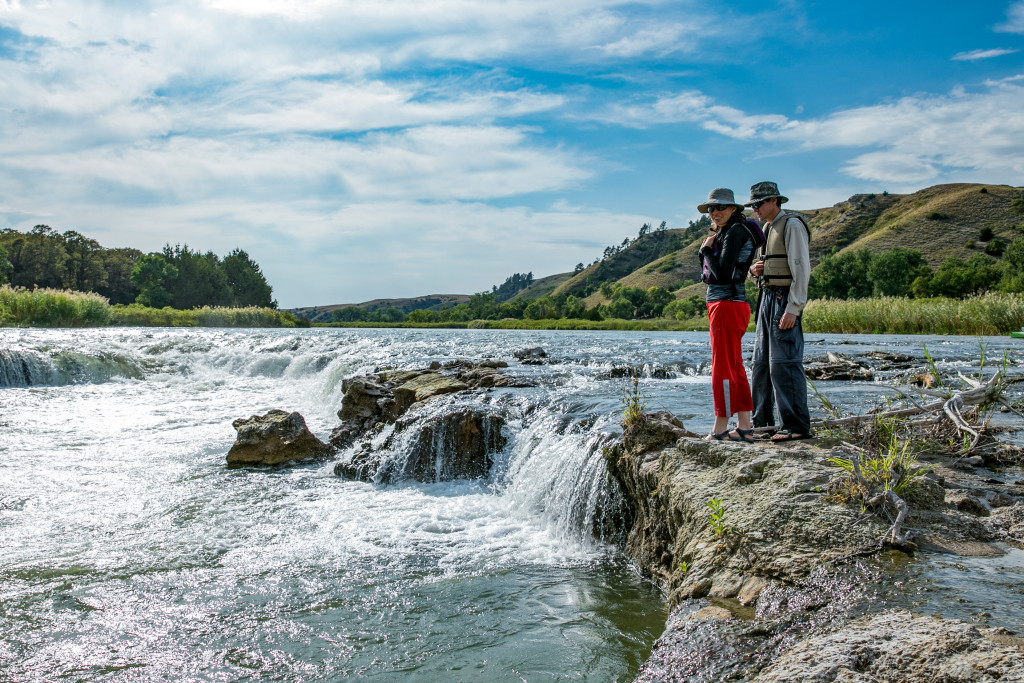 If you're keen on exploring more advanced or remote rivers and streams, make sure to go with someone who is experienced and knows that area of the stream well. One, it's difficult to estimate travel time on a river without prior experience, and two, fast water and other dangerous features can sneak up on you quickly.
Bekah Poppe of Bloomfield said, "Be prepared to exit your boat on short notice at dangerous stretches, and be prepared to drag your boat if you lose the current on the lazy, wide sections." Dangerous chutes, rocky rapids, submerged trees, log jams, wire fencing and low-head dams are also common obstacles on remote Nebraska streams, many of which we encountered while floating an unmapped stretch of the Niobrara River between Nenzel and Valentine.
Also, make a game plan of where you will put in and take out each day, plus have a plan B should those areas be inaccessible. Don't wing it. If possible, scout access points in advance. Some areas will require four-wheel drive. And always respect private property.
Sabrina Negus of Tilden stresses the importance of the buddy system: "A four-person group should be the minimum the first time you try a more advanced stretch. And it's always better if at least one person has done that stretch."
In case of an emergency, have a buddy stay with the injured person and a buddy for the person floating out to get help.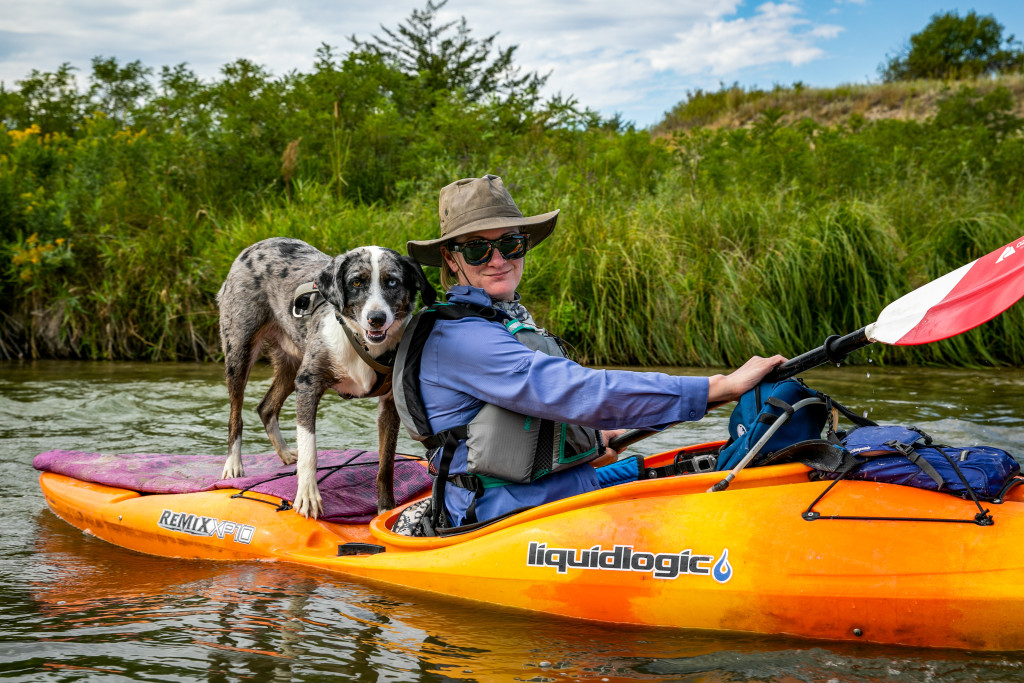 River Condition
River kayaking can be done year round, although each season will come with its own set of conditions. In spring, fall and winter, water can be cold, which poses the risk of hypothermia, and in spring, runoff and snowmelt contribute to high and fast water. In kayaking, capsizing is not a matter of if, but when. Even the most experienced kayakers can take a spill.
Conversely during the warmer months, July through September, water levels on prairie rivers can get quite low, and during drought conditions, even groundwater-fed streams such as the Niobrara can be affected — dragging a boat down a river is nowhere near as fun as floating it. So, check USGS water gauges to determine if water levels and water temperature are adequate. Corman and his wife, Jen, use this data to help them determine when to kayak a particular route.
Transportation
Once you have figured out where you will kayak and when, arranging transportation will be the next big piece in the puzzle. At least two vehicles are needed — one to leave down river at your take-out point and another to drop off people and gear at the put-in site. Decide who will do the driving beforehand, because it could be a long day for those who volunteer.
Although my group of friends have shuttling people and kayaks down to a science, many of them used an outfitter before venturing out on their own. If you're a newbie, save yourself the headache and use a guide service. An outfitter will handle all the logistics of dropping off you and your kayak upriver, and they'll pick you up at the end.
Graham Outfitters out of Valentine services the Niobrara River, and they offer guided floats, shuttling and full-service trips where they also take care of the camping and cooking. Rachel Simpson of Lincoln has floated with them several times.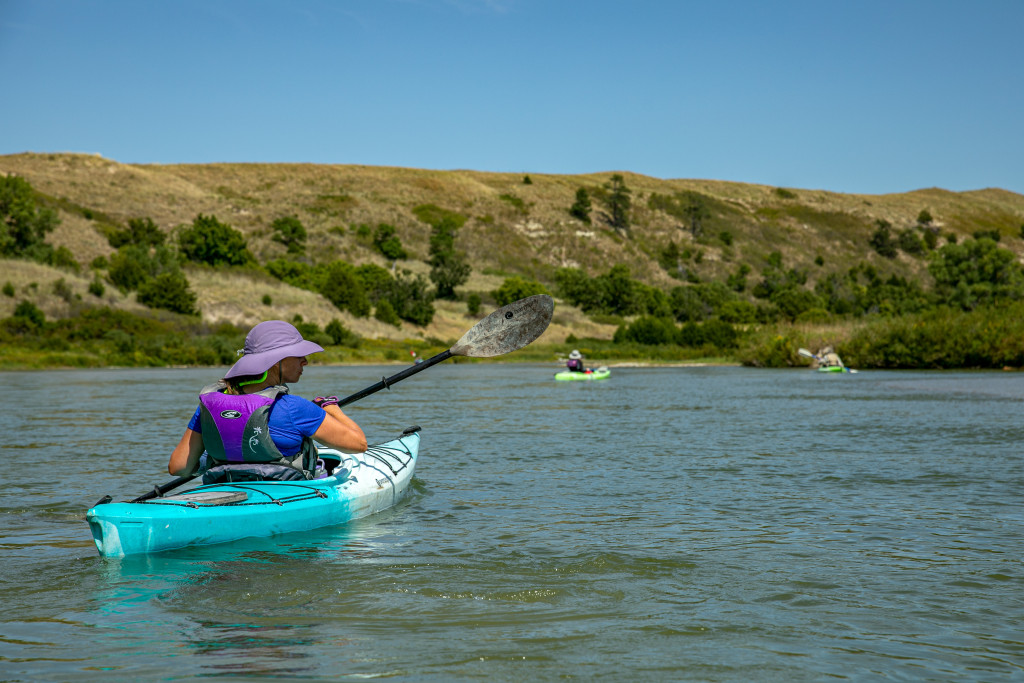 "If you are a novice, the stretch from Fort Niobrara launch down to Brewers Bridge at Graham's Camp is the perfect place to start and to go with someone more experienced," Simpson said. "Guides can teach you how to paddle and read the river … That stretch has no chutes or portages, no downed trees and is easy to navigate. I found this stretch of the Niobrara gloriously peaceful. You can look around, relax and take a break from paddling instead of worrying about what might be coming around the bend."
There are no guiding options on the Missouri River, but due to the river's accessibility, this is the river to take if you insist on arranging your own transportation.
Camping
For camping, you have three options. Option A is to pack the kayak with all your tent camping essentials and food, and set up camp at public or private campsites along your route. Option B is to set up a base camp and shuttle back to the same place each night. Option C is to pay a full-service outfitter to take care of everything. Each option has its pros and cons.
Along the wild and scenic stretch of the Niobrara River, Smith Falls State Park is the only public campsite. However, there are several commercial campgrounds available, said Corman. For information on outfitter-run campsites, visit bit.ly/3asknnq.
On the Missouri River, you have several camping options: bit.ly/3zovtnR.
Also, note regulations on open fires and firewood. No open fires are allowed on wildlife management areas, and the collection of firewood is prohibited. During dry conditions, make sure to call ahead about fire bans on other Game and Parks properties. Campers should plan on bringing their own self-contained heat source if they must have one, such as a small camp stove for cooking. In private campgrounds that allow campfires, use local wood only to prevent the spread of emerald ash borer.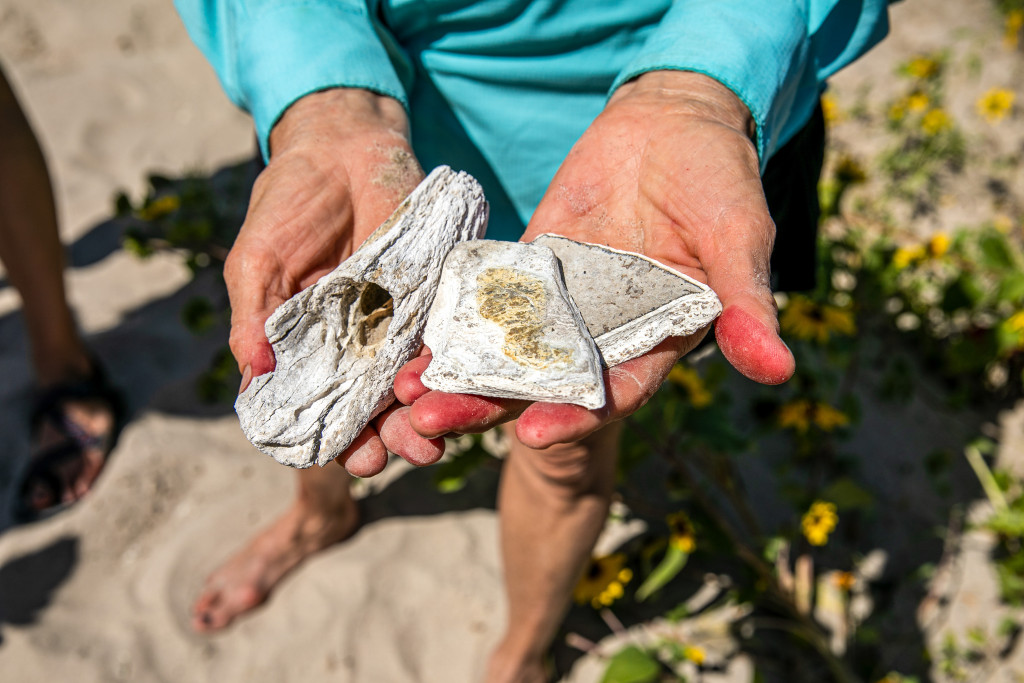 Kayaking Essentials
Jen Corman of Bassett offers some great tips on packing: "If kayaking in spring or fall, bring appropriate clothing and gear to prevent hypothermia in case of an inevitable water entry. I say inevitable, because I learned the hard way — it was the 'easy' stretches and non-risky activities that got me. Also, bring a dry bag for gear and food that shouldn't get wet, and use carabiners to secure items to your kayak or canoe in case your boat capsizes. Any lines should be stashed in bags or compartments to avoid entanglement hazards. I always bring a headlamp, in case we are stuck on the river after dark."
Other essentials to bring:
• Water
• PFD
• Pocket knife
• Folding saw
• Sunglasses
• Food
• Hat
• Sunblock
• Paddling gloves
• Rain gear
• River map
• Face/hand wipes
Jen Corman also added: "I have grown as a person, so now I wear my PFD while kayaking instead of just stashing it on the boat." Also, wear secure sandals or water shoes instead of flip flops.
Marilyn Tabor of Raymond is a fan of softshell coolers, which she can stuff into one of the hatch compartments of her kayak. These coolers are lightweight, watertight, and they also float. You'll appreciate having one when it's 90 degrees.
"Freeze bottles of water to use for ice. Then when it melts, the beer is probably gone and you have more water," Tabor said.
Eat perishable food first and then snack on foods like jerky, protein bars, dried fruit, cheese and trail mix later. For meals, freeze-dried food is lightweight and convenient, especially if you plan on packing everything in your kayak. If you're base camping, your load will be so much lighter on the water for a multi-day trip — only pack what you need for the day.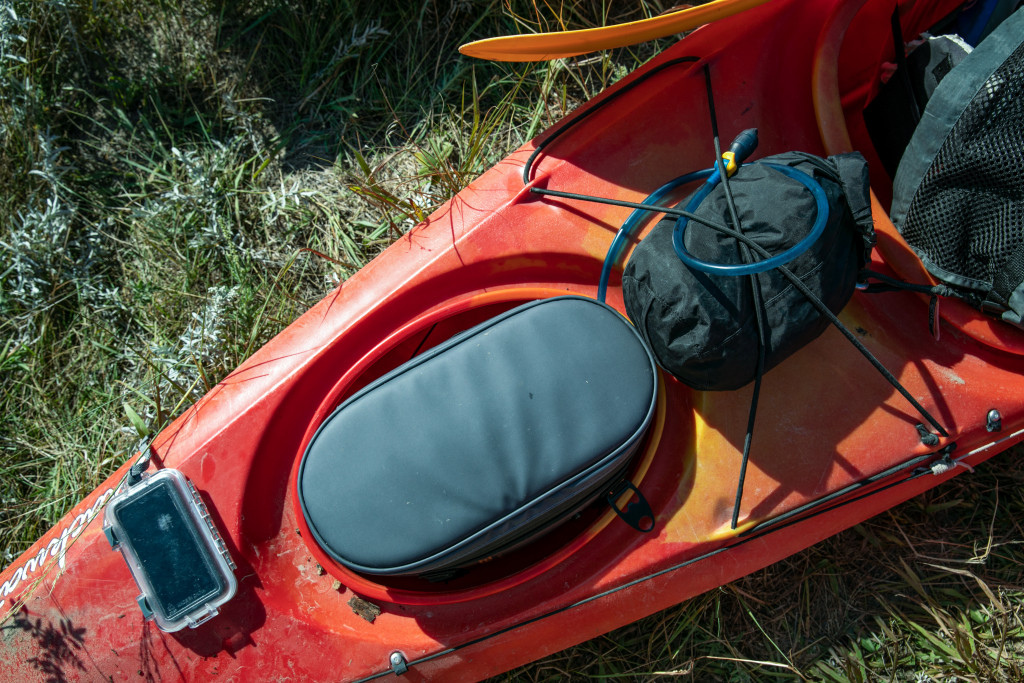 Portage Around Hazards
You aren't likely to run into obstacles on more beginner-friendly stretches of river, but you might when floating less-frequented streams. You'll have to get out to avoid them. The potential for injury in attempting swift rapids and chutes is high. Jen Corman advises:
"Listen ahead for rapids and obstructions. You should always get out and scout significant rapids, even if you have seen them before, and some rapids should never be attempted," she said. "Also, dangerous strainers can appear overnight. Remember to be respectful of private property during the trip, especially while portaging."
Kayak camping can take extensive planning and the right people to make a trip come together, but when it does, you will be rewarded with an unforgettable adventure enjoying one of the most remarkable assets of our state: our rivers and streams. What better way to immerse yourself in the beauty of Nebraska's river system than to stay close? Kayak camping offers that intimate experience. ■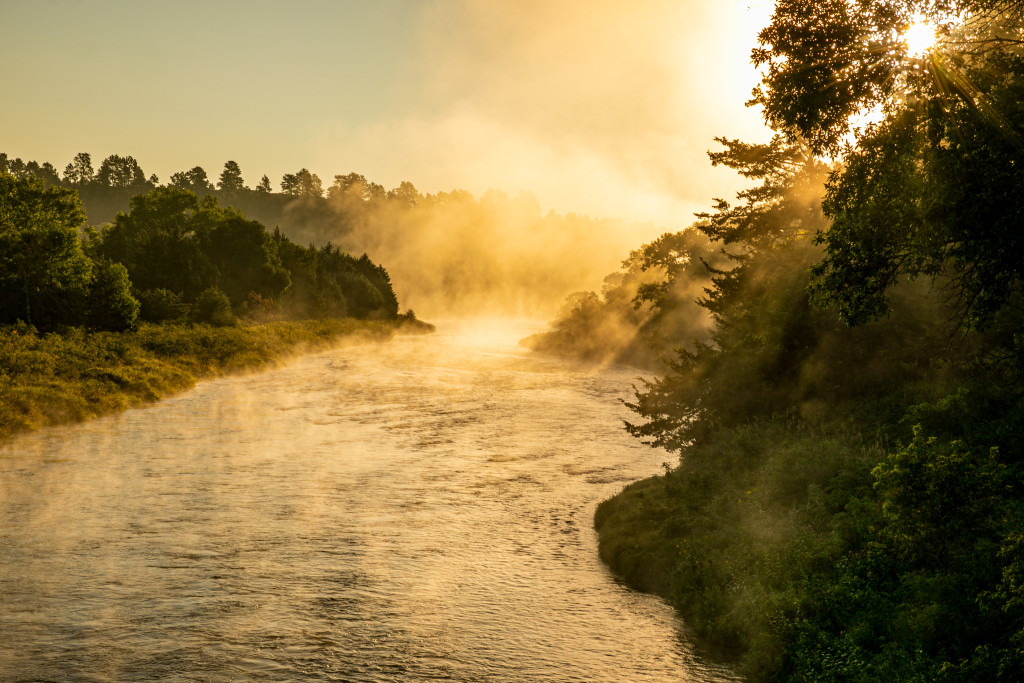 The post Kayak Camping appeared first on Nebraskaland Magazine.