Story and photos by Jeff Kurrus
There is a long list of ways to raise money. In the outdoor world, it's often banquets, auctions or raffles. Others host fishing tournaments, shoots or competitions like one-box hunts. One Johnson County resident, however, came up with an entirely different plan to raise money to support his community. Arlen Beethe, with the support of the Elk Creek Men's Club, had a thought: Why not introduce a 16th century game made popular in Europe, combine friends, family and absolute strangers to compete, and raise money to help their neighbors?
"Every year the Elk Creek Men's Club gives scholarships to local kids," Arlen said. "We raise money for the Johnson County 4-H and offer help to any number of benefits. If someone has an injury and needs some help — if something needs funding — we try to raise it."
And that's how the Elk Creek curling event began.
"I had always enjoyed watching curling during the Olympics," said Arlen, "so I had this idea to do it on Main Street in Elk Creek. But that didn't work."
"Well, that's not the exact way it started," said Arlen's son, Cole, with a chuckle. "Originally, over a couple of years talking in the Village Tavern, our local bar, the idea was to use cow patties for a curling event. We'd freeze them, add weights, and somehow fashion a handle to them."
Luckily, this idea gave way to buying actual curling stones.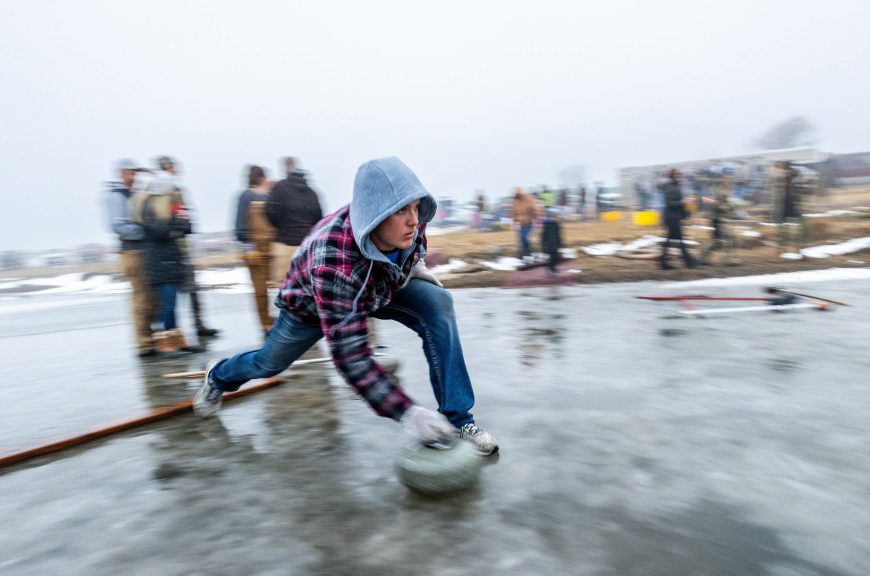 40 Pounds of Granite
Curling, like every other sporting event, comes with a list of terminology just about as long as a curling "pitch," the sheet of ice on which the game is played. The object of curling, similar to shuffleboard, is to slide granite stones, also called "rocks," into a target area, or "house." The path of the stone is determined by its speed and team members who sweep and brush the ice ahead of the stone with brooms in order to influence its trajectory or "curl."
The stones are heavy, weighing about 40 pounds, and have a handle for the person releasing them. Arlen originally searched online to find a set of less expensive stones — if you'd call $2,000 less expensive — for sale in North Dakota.
"Friends of the family, Gary and Kathy Peters, went up to get the stones from a guy who told us he had been an Olympic judge at one time," said Arlen. "After spending a bit of time talking to the guy on the phone, I knew they were in for a long conversation when they met him."
Gary, chucking over the absurdity of the trip with his wife to procure the rocks, recalls that half-day conversation 15 miles from the Canadian border. "He was selling us eight stones along with a set of brooms. The guy kept saying, 'You might need this. You might need that.' I wanted to tell him this is going to be pretty crude where we do this.
"Then, a couple of years later," Gary continued, "we had a guy from western Nebraska reach out. He had some stones we could use. So, for several years we'd borrow the stones and cut him a check for letting us use them. But our treasurer told us he wasn't cashing the checks. When I called him, he told me to just keep the stones. So now I have two sets of curling stones in my basement. They get used one day a year."
The club shoots to have its curling fundraiser the second Saturday in January, advertising mostly by word of mouth and Facebook. Gary and a host of others help set up. Kathy prints out score sheets from online, and a group of club members paint the scoring circles on the pond ice and keep score of the event. And while the weather hasn't always cooperated — the ice never thickened enough a couple of years — Arlen and his men's club are always ready to adapt.
"We first held the event for a few years in an alley behind the firehall in town," said Arlen, "but you had to run a liner and work pouring 50-degree water – hoping it would freeze. It was a pain to get done. So six years ago, we moved it to the pond. The ice can be a little rough, but once you get your house set in, it works well."
Farm Pond Fun
At the event last winter, no one wore curling shoes, pants or gloves. Instead, the Johnson County farm pond curlers dressed in anything from sneakers to boots, with overalls or blue jeans.
Their attire, of course, didn't affect their play. Some participants maintained a level of professional form while others used an anything-goes approach, shoving the rock down the ice any way they could. For traction, players planted a foot in front of a wooden 2×4 drilled into the ice.
And the pitch — it changed as the weather did, shortening or lengthening as ice conditions changed, but the participants didn't seem to care. With their four-person teams, no one pulled out their measuring tape to see if the area was the 45- to 46-meter length of a competition-size pitch, and even fewer questioned the ice. Small puddles of water became a brief concern midday, not because of the fear of falling through the 8-inch ice, but because wet clothes in January is rarely a good idea.
To play, the stones were released from the front edge of a line called the hog, with extra bragging rights awarded to those who could slide the farthest across the ice without falling down, while still releasing the rock in the general direction of the house. Points were awarded to the stones closest to the center, and additional points were awarded to teams for each stone that is closer than the best of their opponents'. No points were awarded if teams are unable to land a stone in the scoring area.
Cole's teams have won all but one year, and while bragging rights were won that day, the object of Elk Creek curling is always fun.
And fundraising. They do this in the most unique way possible — sliding giant stones across a frozen Nebraska farm pond in January, in hopes of sending rocks to
the house. ■
A Brief Curling History
Above is the 16th century painting "Winter landscape with a bird trap" by Pieter Bruegel the Elder, of Belgium, which portrays a scene of a sport similar to curling being played on frozen ponds.
The first recognized curling clubs were formed in Scotland during the 19th century with international competitions also being held during this century.
By the early 20th century, the game had reached such notoriety it was included in the first Olympic Winter Games in 1924. However, it was removed from Olympic programming until gaining official medal status in 1998 by the International Olympic Committee.
Nowadays, national and international competitions take place on indoor rinks under carefully controlled ice conditions, and more laid-back versions of this popular winter sport are held throughout the world on frozen waters, including at least one in Elk Creek, Nebraska.
The post Elk Creek Curling appeared first on Nebraskaland Magazine.