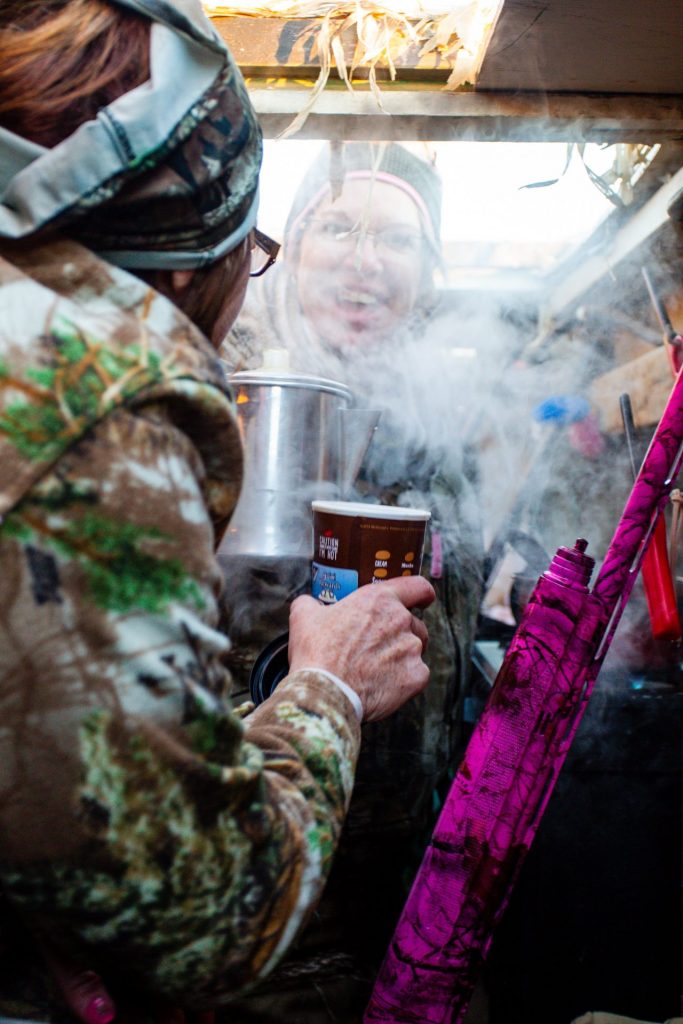 When you've been up and dragging decoys since 4 a.m., you're ready for some grub by the time the ducks have flown and the midmorning lull begins. Whether you're hunting from a heated pit blind, camouflaged among the reeds or lying in a small layout blind, there's never a reason to go hungry. Read on for ideas beyond energy bars and good old raisins and peanuts.
Kitchen-ready Blind
Hunting from a heated blind can be like staying in a 5-star hotel. Not only is it warm, spacious and comes with all the bells and whistles, you also have the luxury of being able to eat an actual breakfast. Even if the ducks aren't flying, there's always time for hot coffee, eggs, bacon and shooting the breeze.
Here are tips for prepping breakfast in the blind:
• Whisk raw eggs ahead of time and store in a plastic container to take to the blind. For scrambling, plan for two eggs per person. Keep cold.
• Dice any meat, onions, mushrooms and peppers ahead of time and store in a separate container(s).
• Pre-prepare food that can be easily reheated in the blind, such as breads, biscuits and gravy.
• Cook in a nonstick skillet for easy cleanup. Use a lid for faster cooking on extra cold mornings.
• Heat cleaning water while you are eating to save time. If needed, use biodegradable Campsuds for all your washing needs.
• Always follow food safety guidelines at home and in the outdoors.
• Bring hand wipes and a trash bag for easy cleanup.
For simpler, hot breakfasts, try just-add-water meals, instant oatmeal or breakfast burritos. Keep a coffee/tea kettle in the blind or fill a thermos before you leave home. Younger hunters might appreciate hot cocoa.
See below for Julie's recipe for biscuits and gravy.
Duck Blind Biscuits and Gravy
By Julie Geiser
Biscuits: At home, prepare biscuits from a box mix such as Bisquick, or for a quick fix, buy refrigerated biscuits and bake ahead of time. Pack in a hard container so they don't get smashed on the way to the blind.
Gravy: The night before, brown a package of sausage – I like Jimmy Dean's. Move the cooked sausage to one side of the pan, and then add 2 cups of milk to the sausage grease. Heat up the milk and grease, and then add ½ cup of flour and stir with a fork until the lumps are gone. Next, stir in the sausage, and continue to whisk in more flour, a little at a time, until gravy thickens to desired consistency. Add salt and pepper to taste. If you're unable to make gravy from scratch, buy a dry, white gravy packet and follow the directions.
Pour the sausage gravy into a sturdy container to take to the blind.
Eggs: In the blind, add whisked eggs into a hot pan and scramble. When set, move the eggs to the side of the pan, and then pour in pre-made gravy to reheat. Place biscuits on top of the eggs to warm them, flipping once or twice.
This is a hearty breakfast – serve on paper plates that won't bend.
Hunting on a Bucket
When hunting in natural cover, you will have to carry food in your pack, bucket or sled. Choose high-energy but simple, lightweight food. A few things to consider:
• Be aware of noisy, bright-colored, reflective packaging that can blow your cover. Transfer food to a quieter, more neutral-colored bag or container if necessary.
• Bring a small trash bag to avoid accidental littering on the marsh.
• Use hand sanitizer before you eat. Jenny knows a duck hunter who contracted giardia after wading through a pond.
• Use a dry bag to protect food from moisture.
• Hard cheese keeps well in the outdoors. Babybel is a favorite – the wax sealing provides some protection from heat, being smashed in your pack and grimy, bloodstained hands.
• Jerky, summer sausage and meat sticks are high in protein and heavily salted. They can last several days without refrigeration, and if you've been sweating, will help replace the sodium you've lost. See below for Jenny's jalapeno and pineapple wild game jerky recipe.
• Don't forget to incorporate fiber into your diet. Throw a bag of baby carrots, snap peas, celery sticks, etc., along with to-go cups of hummus or peanut butter into your bag. Fruits such as apples, bananas and easy-to-peel mandarin oranges are portable and quiet to eat.
• If all else fails, peanut butter and jelly sandwiches require no refrigeration. They are packed with protein and heart-healthy fats that will keep you feeling full.
These tips can apply to hunting from a boat or a layout blind.
Layout Blind
Layout blinds don't allow much room for movement, so food must be packable, require little prep and not be messy.
• Aside from granola, energy and candy bars, homemade energy bites can offer a quick pick-me-up. See below for a no-bake energy bites recipe.
• Wraps and pita sandwiches are alternatives to traditional sandwiches. Pack pickled hardboiled eggs to eat on the side – they are filling, high in protein and they keep well.
• Snacks: Dehydrated and freeze-dried fruit complement trail mix. Fruit leather and bars are also tasty.
Monster Energy Bites
By Jackie Freeman
Jackie Freeman is a lifestyle coach in Bloomfield, Nebraska. These monster energy bites are one of Jackie's go-to snacks, whether she's training to run her third Boston Marathon or kayak racing on the Missouri River.
Ingredients:
• 1 cup of rolled oats
• ½ cup of peanut butter
• ¼ cup of raw honey
• 1⁄3 cup of vanilla-flavored protein powder
• 2 tablespoons of mini M&Ms
• 1 tablespoon of mini chocolate chips
Directions: Mix ingredients together, roll into balls and store in zip-top
bags.
Boat Blind
Depending on your rig, hunting from a boat blind can get cramped and cold. While you might not be able to cook a huge breakfast like you would in a large ground blind, there is still some room for comfort. With your movements hidden from keen-eyed birds and possibly enough space for a heater and small stove, you have options.
• A thermos can be easily packed into a boat – hot chili or homemade soup goes far on a cold day.
• Tuna/salmon pouches and meat spreads are convenient – bring crackers.
• If a small camp stove is available, Mountain House makes convenient freeze-dried breakfast in a can – just add boiling water, cover and then stir.
• Breakfast burritos are our go-to for a hot, easy and filling meal. Fully assemble the burritos at home and then double wrap in foil. When ready to eat, heat through – still wrapped in foil – in a warm skillet or on top of your blind's heater grates, turning occasionally.
Jalapeno and Pineapple Wild Game Jerky
By Jenny Nguyen-Wheatley
Ingredients:
• 2 pounds of venison round or skinless
Canada goose breast
• 1 cup of 100 percent pineapple juice
• 2 teaspoons of jalapeno powder
• ¼ cup of soy sauce
• 2 teaspoons of kosher/sea salt
• ¼ cup of Worcestershire sauce
• ½ cup of packed brown sugar
• 2 tablespoons of Wright's hickory liquid smoke
• 1 teaspoon of garlic salt
• ½ teaspoon of Prague
powder #1 curing salt
Directions: Remove silver skin and fat off meat, and then slice meat against the grain about ¼-inch thick. In a bowl, whisk together pineapple juice and remaining ingredients. Add the sliced meat to the marinade, cover and refrigerate for 24 hours. Stir the meat occasionally.
Evenly space out meat strips on dehydrator trays; do not allow any of the pieces to touch or overlap. Turn the dehydrator to 160 degrees Fahrenheit and dry the meat until it bends and cracks but does not break. Check meat periodically to make sure that you do not overdry the jerky, which will turn it hard and brittle. Dry time will depend on dehydrator efficiency and personal preference. I took mine off after 5 hours.
Feed Your Dog
Dogs digest food differently than humans. Although hunters shouldn't overfeed dogs before an outing, make sure you do give them something before high-energy activity. More importantly, ensure your dog is fit and able before the hunting season begins.
• The occasional bowl licking in the blind is allowed, and maybe a few pieces of sausage now and then – though dog-specific protein snacks are preferable.
• Always provide water to keep dogs hydrated.
• Gatorade helps maintain blood sugar levels during more intense hunts.
Hunting always works up a good appetite. Keep these tips handy for this upcoming season. ■
The post Breakfast in the Blind appeared first on Nebraskaland Magazine.